A monogrammed necklace might be one of the last things people think of when they are trying to come up with great gift ideas, but they're missing out. This simple, graceful gift is great to give on any occasion. It is a good gift to give even if you don't know the person very well. A monogram necklace can express the sentiment you want it to express. There are very few gifts as versatile as personalized necklaces.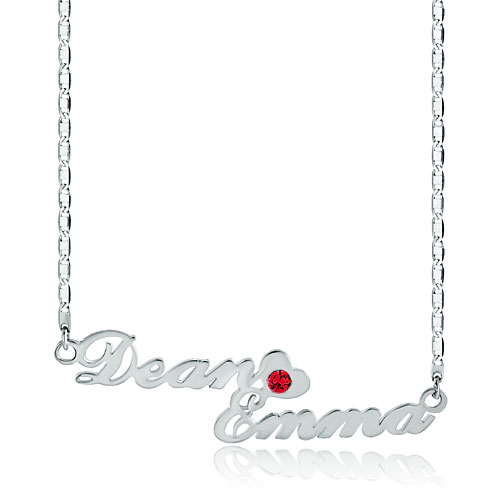 It Can Be an Expensive Gift, or Not
Looking for a fancy, expensive gift that shows the receiver how much you care through the sheer weight of the price tag? Then buy a monogram necklace made of precious metals, such as platinum, silver, and gold. It can even hold gems, such as rubies, emeralds, or even diamonds. Such and extravagant gift can express a lot of love and be very romantic, but a monogram necklace doesn't have to be extravagant. Perhaps you are on a tight budget, or simply find spending a lot of money on a gift for someone inappropriate. You can also buy a monogram necklace that is very simplistic. No matter your budget or purposes, monogrammed necklaces can fit your needs.
A Gift for Loved Ones or Acquaintances
Are you seeking out a gift for someone you don't know very well? Were you invited to a birthday party of a friend of a friend? If you need a gift to bring along, than a monogrammed necklace is the perfect companion for you. The person will feel appreciated and you won't have to try and figure out what they like. Want a gift that expresses the depth of your love and appreciation? A monogrammed necklace can get the job done, especially when a personalized gift card is added to it.
Personalized Necklaces Compliment
Personalized necklaces are gifts that all can appreciate, even if they are not used to wearing jewelry. They might keep it for special occasions, or find that they like the monogrammed necklace so much they want to wear it every day. The monogram necklace, when given as a gift, is never offensive, as long as you have the person's name right! Jewelry is a gift that flatters. Monograms pay respect to the person. Combined, they create a powerful, touching gift that even the most scrutinizing can appreciate. Giving such a gift is a positive reflection on you.
You might be amazed at all the great styles personalized necklaces come in. Even still, it will not be difficult for you to find just the right one. When buying a monogrammed necklace as a gift for someone, pick something that you personally would want to wear and that you could also see them wearing. This will help to maximize the confidence  as a gift giver and the pleasure that you experience in giving the gift, which is good for the person receiving the gift just as it is for you. Pick out your monogrammed necklace today.